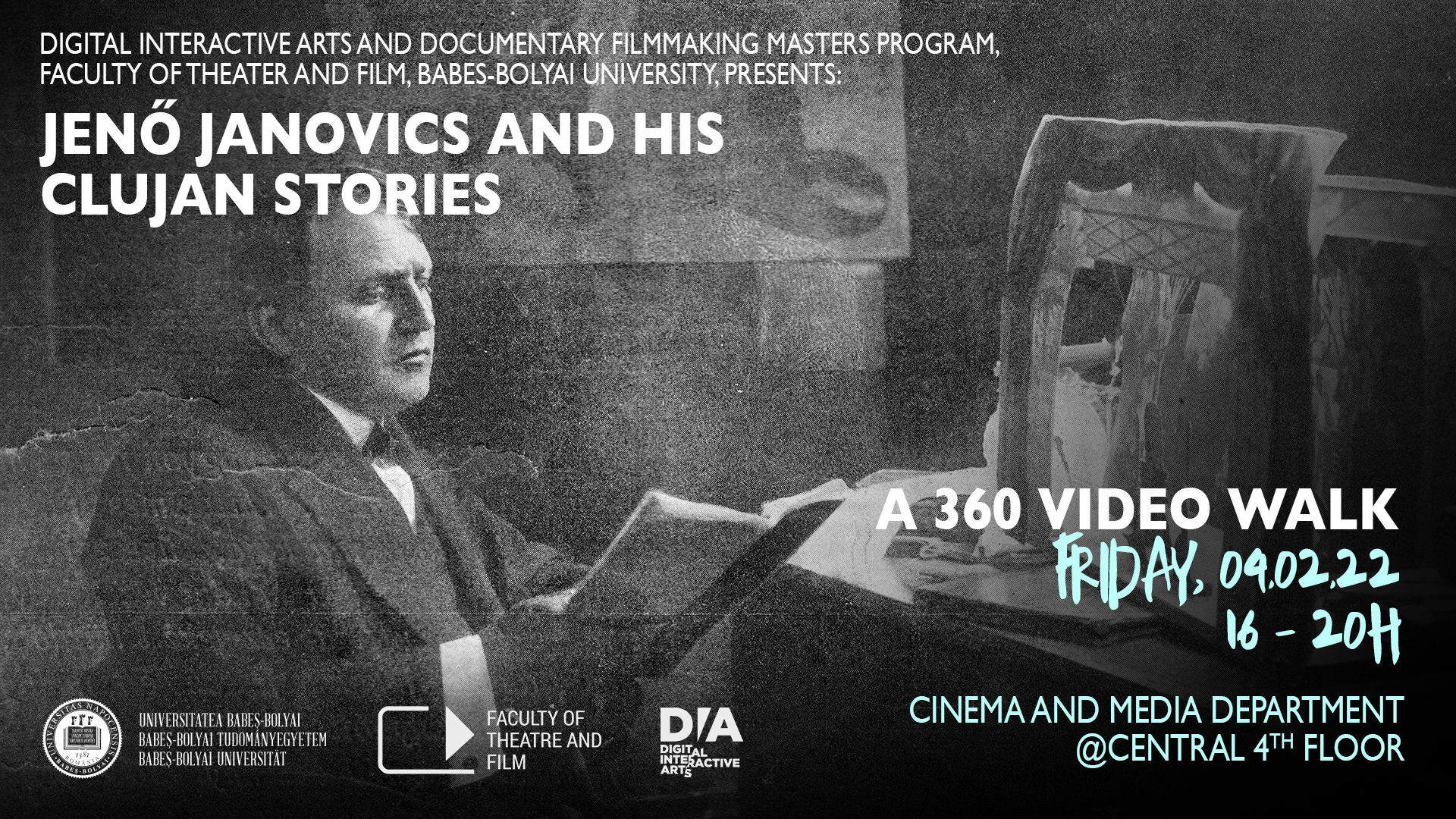 01 Feb

Jenő Janovics and his "Clujan" stories
A 360-video walk through the city
Have you ever wanted to discover Cluj's legends, the ones that no one knows about? Join the 360-video walk about Jenő Janovics and discover a part of Cluj's history, being guided through the old town by the famous filmmaker. You will discover stories that will make you smile, shiver and if you reach the end, you will be rewarded with a special surprise.
The locations are as follows, we recommend that you visit them in this order:
Unirii Square – Where you will hear a story about Matei Corvin's youth
Casa Matthias Corvinus (Casa Matia), Strada Sextil Pușcariu 1 – Where you will hear a story about how the city of Cluj-Napoca was saved right at the entrance
Elisabeta Bridge, Little Somesul Canal – Where will you hear a story about how the citizens of the city did not have access to water for a short time.
Old Synagogue, Paris Street 5 – Where you hear a story that happened in the Synagogue
Central Shopping Center, Regele Ferdinand Street 22-26, – Where you will have the opportunity to get to know Jenő Janovics better. After listening to the story, please go to the entrance on the left side of the Central complex and take the elevator next to Carrefour to the 4th floor. There is one last surprise.
To get in touch with Jenő Janovics' stories, scan the QR codes available here.  To scan QR codes you need the Artivive app, available for free on Google play and the Appstore. Each location has its own QR code and we recommend that you scan them when you have reached the suggested location for each story.
Attention! All stories are in English.
The event is organized by the students from the master programs of Digital Interactive Arts – DIA and Documentary Filmmaking – DFM within the Faculty of Theater and Film of  Babeș – Bolyai University.
Creative team:
Coordinator: Lect. Spec. Drd. Bulibașa Adelina-Laura
Alexandru-Eugen Nagy
Andrei Boar
Andrei Panghe
Andrian Împărațel
Anna Decheng Zhu
Cătălin Pop
Cezar-Iulian Enache
Janine Grün
Robert Kocsis