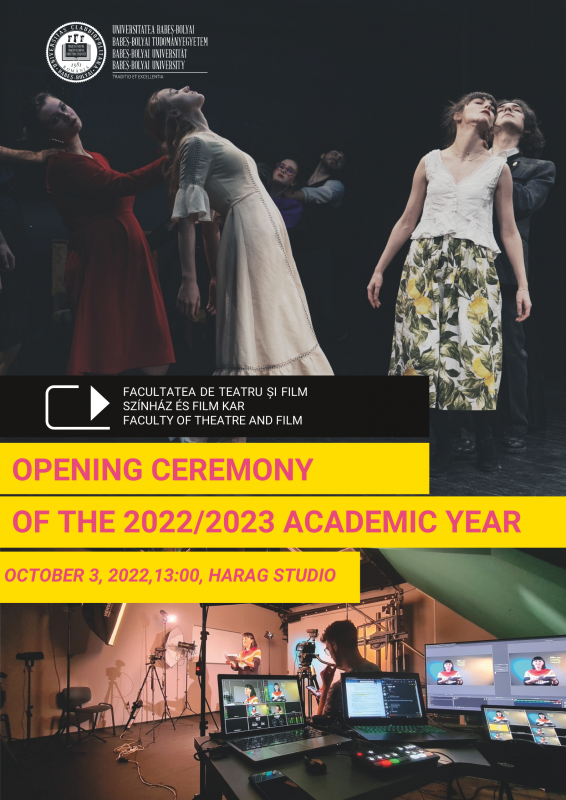 29 Sep

OPENING CEREMONY OF THE 2022/2023 ACADEMIC YEAR

The Board of the Faculty of Theatre and Film invites you to the opening ceremony of the 2022-2023 academic year on Monday, the 3rd of October 2022.

The event will take place in Room Harag (Kogălniceanu Street, no. 4) at 13:00.  Please see the schedule below.
13:00 – 14:00 
OPENING CEREMONY  
Welcome address, prof. Liviu Malița, Dean of the Faculty of Theatre and Film
Opening address, assist. prof. Bartha Katalin Ágnes, Vicedean of the Hungarian line of study, Student Relations, and Representation
Opening address, assoc. prof. Claudiu Turcuș, Vicedean of Research and Academic Infrastructure
Theatre performance by the students of the Theatre Department
Address by the representative of OSUBB (Organizația Studenților din Universitatea Babeș-Bolyai)
Screening of a video montage produced by the students of the Cinema and Media Department
Screening of a video montage produced by the students of the Hungarian Cinema and Media Department
Theatre performance by the students of the Hungarian Theatre Department
14:00 – 14:45 
INFORMATIVE MEETINGS FOR EACH PROGRAMME, COORDINATED BY THE RESPECTIVE TUTORS  
15:00 – 16:00 
GUIDANCE AND SOCIALIZING SESSIONS FOR FIRST YEAR STUDENTS AND ALUMNI, FELLOW STUDENTS, AND PROFESSORS