09 Nov

We are welcoming Jarek Sacharski, London and Amsterdam based voice coach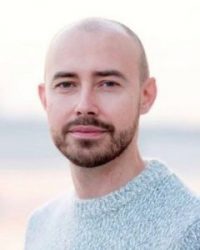 Jarek Sacharski is visiting our school to deliver vocal techniques workshops within an intensive practice programme coordinated by our colleague, Anca Similar. Acting students from grade II and III are participating in this intensive vocal training, exploring new ways of working with their voices and how their physical presence contributes to articulating speech.
Jarek trained as an actor at the The Aleksander Zelwerowicz National Academy of Dramatic Art in Warsaw and spent two years under Patsy Rodenburg at the Guildhall MA in Training Actors (Voice) course. He coaches speakers at TEDx Amsterdam and TEDx Warsaw, and has led workshops and individual sessions on public speaking, voice and communication for Facebook, Toyota, Heineken, PWC, Triumph, Fulbright Foundation, JDE, Rijskmuseum etc.
His main areas of expertise are: empowerment through voice training, rhetoric of presenting, presence, communication across cultures and the support of non-native English speaking clients in finding clarity, flow and impact of the language.
Apart from working at Guildhall School of Music & Drama, Jarek is a lecturer at The SWPS University of Social Sciences and Humanities in Warsaw. He also volunteers as a drama teacher with Anno's Africa, a UK-based charity organising art and theatre programmes in Kenya and Malawi.