29 Apr

Janovics Center Award Colloquium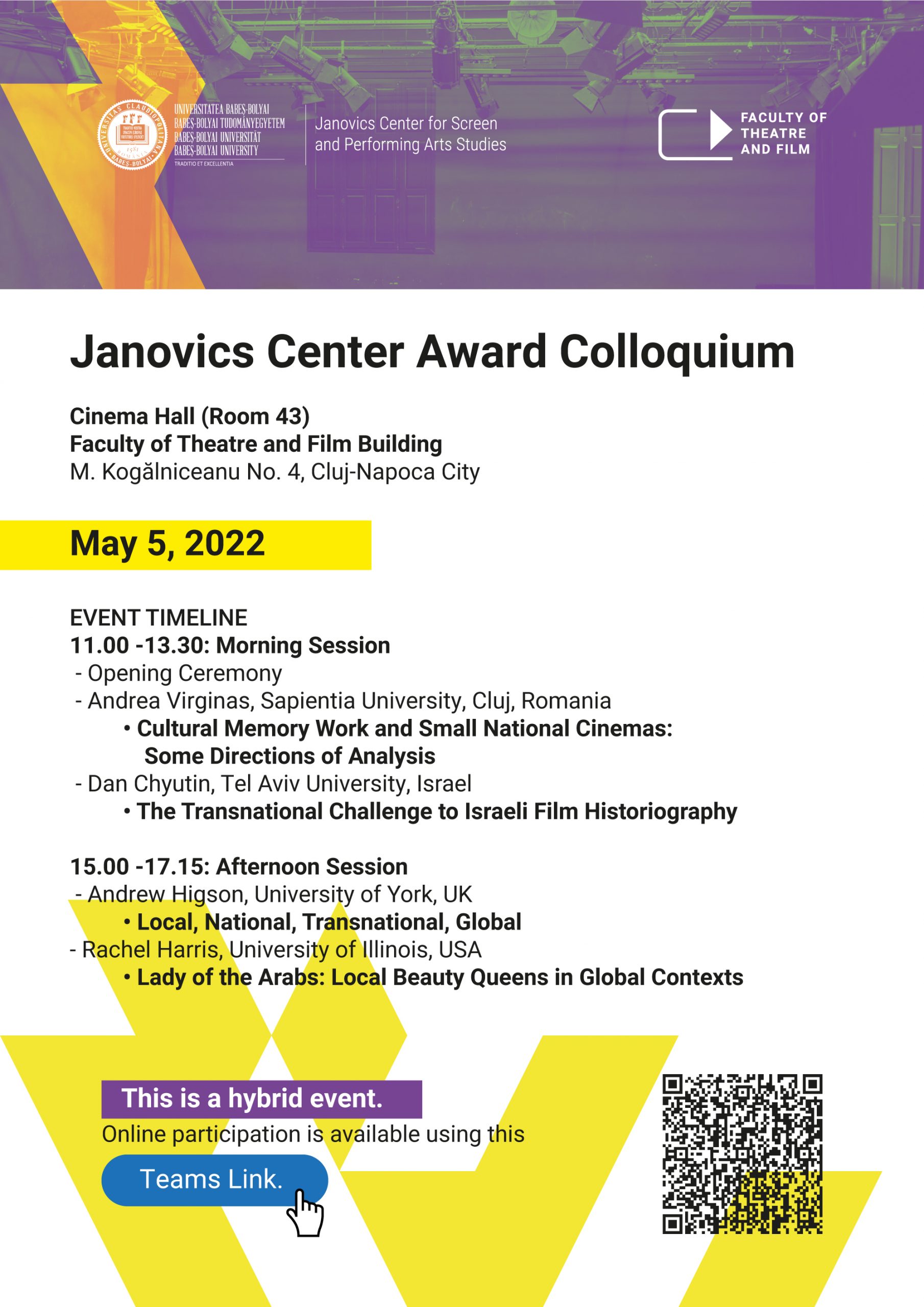 Janovics Center for Screen and Performing Arts Studies, Faculty of Theatre and Film, Babes-Bolyai University is delighted to invite you at the Janovics Center Award Colloquium on May 5, 2022. The event features the winners of The Janovics Center Award for Outstanding Humanities Research in Transnational Film and Theatre Studies.
The event takes place in the Cinema Hall (Room 43) of the Faculty of Theatre and Film Building. Online participation is available using this Teams Link.
Abstracts and Presenters' Bios
Andrea Virginas, Sapientia University Cluj, Romania
Cultural Memory Work and Small National Cinemas: Some Directions of Analysis
Abstract: In the third decade of the 21st century, there is widespread consensus that the relationship to our individual and collective pasts is an ongoing process mediated through audiovisual creations, often fictional and narrative in nature. As historian Marnie Hughes-Warrington observes, "[o]urs is a world in which films rank second only to photographs as the means by which people claim to connect with the past (…)." (Hughes-Warrington 2009, 1). In his seminal 2005 monograph European Cinema: Face to Face with Hollywood film historian Thomas Elsaesser even goes as far as to differentiate European film from the Hollywoodian one based on what he names its "cinematic historical imaginary" (21). It is within this general context of positioning European narrative feature films as active participants in collective memory work that the concept of small national cinemas is introduced, opening some preliminary pathways of analysis.
Andrea Virginás is Associate Professor of Film and Media Studies at Sapientia Hungarian University of Transylvania, Cluj-Napoca, Romania. Her latest volume is Film Genres in Hungarian and Romanian Cinema: History, Theory, Reception (Lexington Books/Rowman and Littlefield, 2021). Currently she is in the research phase of the project Feature Filmic Processing of Collective Traumatization in Contemporary European Film: A Possible Model of Mediated Public Memory-Work (Bolyai János Research Scholarship, Hungarian Academy of Sciences 2021-2024).
Dan Chyutin, Tel Aviv University, Israel
The Transnational Challenge to Israeli Film Historiography
Abstract: At the heart of this paper is a critique of Israeli film historiography's national focus. I argue that this focus can be sustained only when "Israeli film" is limited to the area of local production; if one were to also discuss local reception under this heading, however, the use of a national cinema paradigm becomes quite untenable. A more appropriate transnational approach, in turn, would address an expansive Israeli film *culture* (rather than the narrow area of Israeli filmmaking), whose material traces have often been overlooked by scholarship. I will use two case studies from Israel's first decade in order to give a better sense of how this culture once operated, and how this operation undercuts certain assumptions in nationally-centered historical research.
Dan Chyutin is a teaching fellow at Tel Aviv University's Steve Tisch School of Film and Television. His areas of interest include theories of spiritual film aesthetics, the intersections of Judaism and Israeli cinema, and transnational post-WW2 film culture. His work has been published in the peer-reviewed publications Cinema Journal, Shofar, Journal of Film and Video, Jewish Film & New Media, Short Film Studies, and Journal of Jewish Identities, as well as in several edited collections. Recently Dan completed the monograph "A Hidden Light: Judaism, Contemporary Israeli Film, and the Cinematic Experience," which stems from his doctoral research.
Andrew Higson, University of York, UK
Local, National, Transnational, Global
Abstract: Over the last decade, I've been exploring the changing ways in which nation-states, production and distribution corporations, filmmakers and audiences have engaged with cinema in the era of globalisation. While there is much evidence of trans-national activity, there is also much evidence that the nation-state still matters, and that versions of national cinema can still be identified, especially as nations around the world develop neo-liberal creative industry policies that engage with nation branding and the exercise of soft power. I will examine the resilience of popular national cinema in Europe, but also those 'European' films that do travel. I'll also look at the way that global corporations such as Netflix engage with the local, and at how national cinema is articulated in authoritarian states, even as they seek to participate in the global production and circulation of media content.
Andrew Higson is Professor of Film and Television at the University of York, UK. He has published widely on British cinema and on questions of national and transnational cinema. His books include Film England: Culturally English Filmmaking since the 1990s (2011) and (as co-editor) European Cinema and Television: Cultural Policy and Everyday Life (2015). He was the Director of MeCETES (Mediating Cultural Encounters Through European Screens; 2013-2016) and SIGN (Screen Industries Growth Network; 2020-2022)
Rachel Harris, University of Illinois, USA
Lady of the Arabs: Local Beauty Queens in Global Contexts
Abstract: The modern beauty pageant lies at the intersection of gender and nationalism, and its cinematic representation further idealizes the image of the beauty queen as the paradigmatic representation of the nation. Fictional films and reality television have frequently focused on the most superficial elements: the combination of beauty and competition. The global nature of pageant culture means that it is not only the United States that has made such films, rather they are common and widespread globally, frequently depending on the same tropes, creating a local nuance to an international phenomenon. Lady Kul el-Arab a documentary by Ibtisam Mara'ana Salh disrupts these cinematic expectations. The film follows Duah Fares, a Druze woman living in Israel, as she trains to compete in the Lady of the Arabs (Lady Kul el-Arab) pageant in Jerusalem, and then later enters the Miss Israel competition in Tel Aviv. This paper explores the role of gender in front and behind the camera, and the resonance between the global and the local in the transnational phenomenon of the beauty pageant.
Rachel Harris is Associate Professor of Israeli Literature and Culture at the University of Illinois. Her most recent books include Warriors, Witches, Whores: Women in Israeli Cinema (2017), An Ideological Death: Suicide in Israeli Literature (2014), the co-edited Casting a Giant Shadow: The Transnational Shaping of Israeli Cinema (2021), and the edited volume Teaching the Arab-Israeli Conflict. She is editor of the Journal of Jewish Identities and co-edits a new four-volume translation project: An Anthology of Modern Hebrew Literature.